Ohio Pummels Panthers After Nail-biting Third Period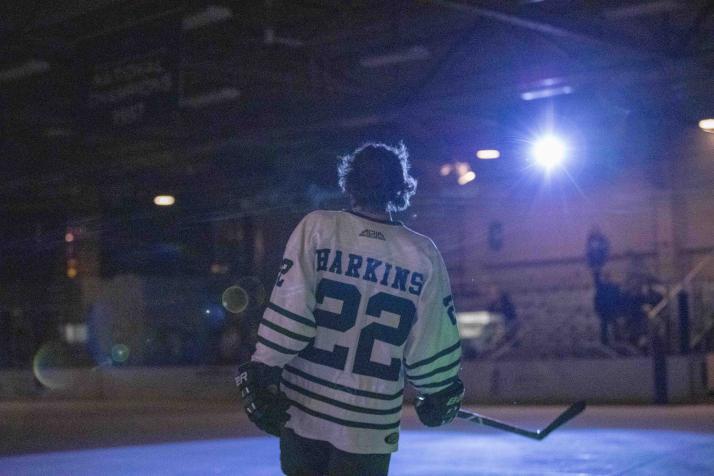 February 24, 2020
ATHENS – In what started out as a silencing goal from the University of Pittsburg Panthers, quickly opened a can of worms that they were not prepared for.
The Ohio University Bobcats found themselves down early after the University of Pittsburg Panthers struck first with less than a minute into the first period. But J.T. Schmizzi was quick to reply to get the Bobcats back on their feet to create a competitive atmosphere.
The competition radiated into the stands as Bird Arena, packed with fans, cheered consistently and loudly to help to give Ohio the home-ice advantage they always look for to help them take a win again.
They did just that as they won 7-5 in a total nail biter that went down to the final minutes.
In what started off as a strong and aggressive first 2/3 of the game, the Bobcats found success with goal after goal. But the third period brought the game a little too close for comfort for the Bobcats.
After slowing their play down, Pitt snuck three goals passed Jimmy Thomas to make this game even.
"That was a great forty minutes, we followed the game plan and stuck to the structure and obviously we were having a lot of success," head coach Cole Bell said. "Third period we kind of took our foot off of the gas a little bit and maybe got a little complacent, we gave them all of those goals."
But Ohio was able to rally in the final minutes. Jake Houston got one off to push the score to 6-5. That goal came from a crazy series of shots to a quick deflection goal to get the ball rolling.
"I saw nothing," Houston said. "I just shot the puck and tried not to get too hard and it went it the net, so that's pretty cool."
Then it was all Kyle Craddick who finished this game and scored on an empty net to seal the deal for Ohio.
"Coach called a good timeout, we just needed to regroup and kind of get together, but we had a good bounce back and I'm happy we came back – it was a good effort," Craddick said.
In the first period alone Ohio held Pitt to just one additional shot to their goal for the majority of the period. That created a level of competition to bring the fans more into the game as this was one of the loudest yet.
That also worked in Ohio's favor as it helped them dictate the pace in the second period that let them lock down their zone on the penalty kill.
Historically speaking, these two teams have had a physical past and rivalry. But this game brought very few penalties. A few spurts of physical play broke out, but both teams had composure.
Ohio has their next matchup against the Panthers On Saturday, Feb. 22 at Bird Arena. Puck drop is set for 7:30.